The Spruce Larks
I have started collaboration with folk musicians in Nova Scotia and the two bands I currently work with are The Spruce Larks (nyckelharpa and guitar) and Harpaflöjt (flute, harp and nyckelharpa).  This page is presents some information about these ensembles and what we play!
Formed in 2018 the Spruce Larks are Kirsty Money, nyckelharpa, and Jude Pelley on guitar, mandolin and bouzouki. 
Kirsty comes from from a Classical Music background and Jude from a Folk one.  The melding of playing styles and musicianship has led the duo to explore numerous folk genres, including Scandinavian, Celtic, and the writing their own compositions.  Projects for the new Maritime duo have included working with the Manning Chapel Choir in Wolfville, The Bordertown Music Festival in Sackville NB, Inner Space Concerts in Halifax, Musique Royale, and a musical residency with The Deep Roots Festival in the fall of 2020. 
The duo released its debut album "Out of the Nest" in September 2021 at the Deep Roots Festival and hope to put on some new shows in the Spring of 2022, once the latest wave of the Pandemic subsides.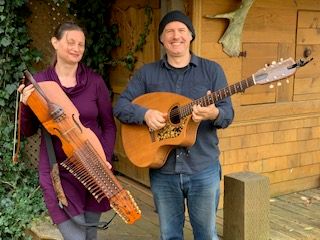 Harpaflöjt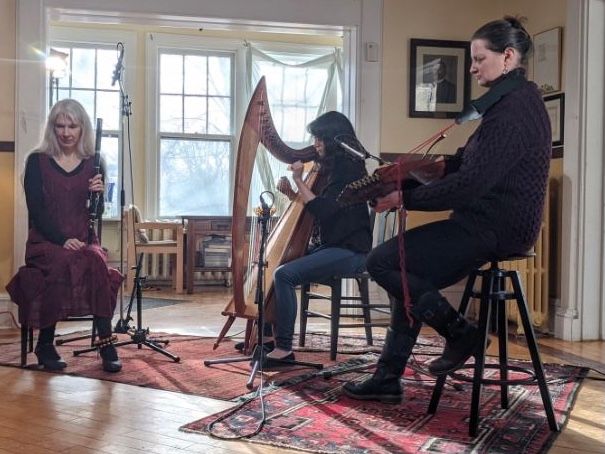 In the fall of 2019 Jennifer Publicover (flutes), Ellen Gibling (harp) and Kirsty Money (nyckelharpa) got together to play and experiment with this unique instrumental combination.  The result was the formation of Harpaflöjt, which gave its debut performance at St. George's Round church in March of 2020. 
This new trio is dedicated to exploring the folk music traditions of Scandinavia, the Celtic countries of Scotland and Ireland, as well as the diaspora of these traditions throughout Canada and the United States.  In addition to this Nordic/Celtic mix, the group enjoys composing new tunes and working on unique arrangements for its combination of instruments. 
In the summer of 2021 Harpaflöjt was featured on the Musique Royale Summer Series, where live concerts were the priority in historic settings around the province of Nova Scotia. Some clips of these performances can be found on the group's YouTube channel.