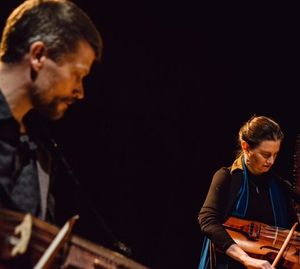 Today my friend and colleague Alex Kehler and I released a couple of tunes on Bandcamp that we worked on last summer while we were in confinement.  It was a bit of an experiment to see if we could work remotely, as he lives in Sherbrooke Québec, and I live in Halifax, NS.   Since then Alex has worked on having a proper recording studio in his home, and has invested in good gear in order to be able to do this.  I too have bought a couple of good mics, and an audio interface, in order to record in my home.  Let me tell you this equipment is not cheap!   I thought the end result was pretty good considering we don't live in the same city and that we were basically using our living rooms as our studios.   This trend will be here to stay I think, once the Pandemic subsides.  Just working on this little release opened my eyes wider to the Independent Music world.  I always thought the grass was greener on this side of the fence.  It turns out it is a totally different colour. 
Symphonic musicians train their entire lives to work in an orchestra.  You have to have mastered your instrument to an extremely high level of playing, be able to read at sight ( as a musician with kids, boy do I rely on my sight reading!!! )  learn music incredibly quickly, adapt to what is going on around you on stage at all times, and be willing to take orders from the conductor, the concertmaster and your section leader.  I practise my part, show up to work and try to do my best from what is asked of me.  It is a pretty regimented life I would say.  I do not have any say artistically, or have a hand in the production side of things.  This is all taken care of by the Symphony staff, who work extremely hard to keep the Organisation humming along. It is a TOTALLY different life from that of an Independent Musician. 
The Independent Musician has artistic control of what is being produced, and as a result more  creativity happens for this type of musician.  I've really loved writing tunes, and arranging how I want them to sound with no one else telling me what to do :):):). This is the great part of being in charge of your artistic goals.  But then, there is the production side of things, where the Independent Musician has to wear many hats, and juggle many balls: the sound recording hat, the grant writing hat, the networking hat, the press release hat, the social media hat ( this is a BIG HAT), the website hat, …I'm sure the list goes on and on.  Oh, another one!  Keeping track of the number of streams you have hat.  In order to apply for some grants, one needs this information.  I guess if you have a lot of streams, this proves that people like your music!  But does this make you a great musician??  Enya has a lot of streams, but …… 
I shall say no more. She obviously hooked into something that worked for her. 
I find it staggering the amount of time it takes to promote oneself!!!!  I find myself spending more time doing self promotion than actually playing my flipping instrument!  Is this normal?? I was always taught that this kind of "look at me, aren't I great?! " behaviour was not becoming, and it should be avoided- yes I come from a British household.  So having to constantly be "putting stuff out there" to keep the public's attention, and to stay relevant does not come naturally.  There's a real finesse to this self promotion business I am learning.  You have to be incredibly organised to get into this groove of self promotion, for it is a FULL TIME JOB.  How could you do this if you had young children??  But people do!  This part of the Independent Musician life  I don't like so much, but it is clearly a necessary evil.  All I can say is that I continue to admire the musicians who have the production side of their business figured out.  Well done guys! 
I'm still at the baby steps stage.  Maybe I'll never get there, I am 51 after all.  Still, it's been an incredibly interesting journey thus far. Below is the link to Alex's Bandcamp page. The track is called "In the Mist" and it's a great bargain at $3 Canadian. 
There, some shameless self promotion! 
https://alexkehler.bandcamp.com/album/in-the-mist?fbclid=IwAR3YevKM3sdCOAyyfDTsGG2ruKTwT-x935HMzitN9w1b62CHNHXNifZdIrw